An article by Greg Baum, chief sports columnist and associate editor
On the release of Make Your Mark (Wilkinson Press).
(https://www.theage.com.au/sport/afl/leading-from-the-back-20190531-p51t98.html)
"Leading from the Back"
As soon as the Hawthorn players boarded their bus for a pre-season camp at Phillip Island in 1994, the driver began to screen an X-rated movie. Sitting in the very back seat, ruckman Steve Lawrence squirmed. "Even when averting my eyes, the sound effects left little to the imagination," says Lawrence. Their destination was two hours away.
Lawrence was 24, well established, a premiership player, but circumspect still in that group of big names and vast personalities. "But I knew I had to do something," he says. The march down the bus, accompanied by a chorus of "whhhhoooo", took forever. "My knees felt weak and my mouth dry from nervousness (as) I wondered what to do," he says.
In the seat behind the driver, Lawrence noticed a new player that season, a 17-year-old. He whispered to the driver that what he was doing was illegal. Without demur, the driver switched off the movie.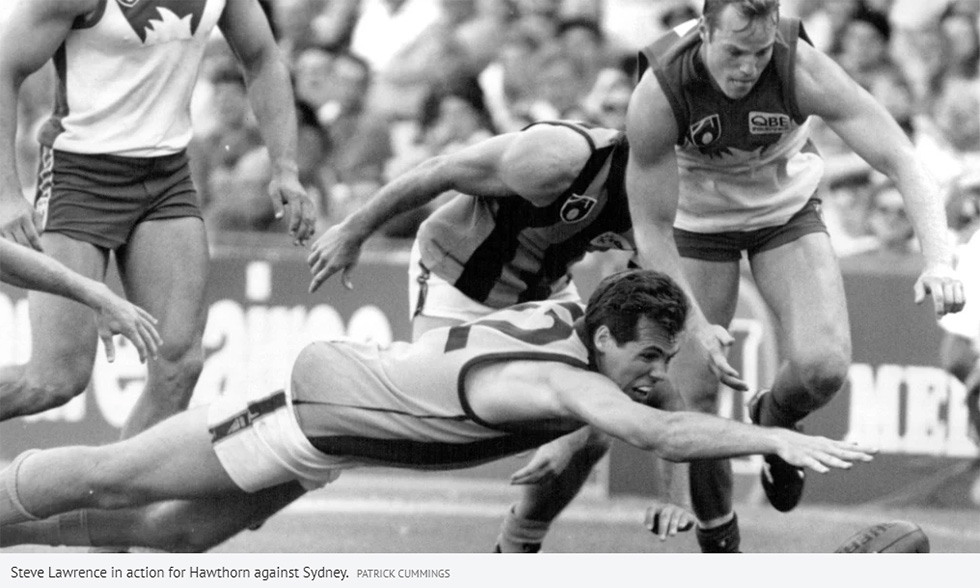 "That was the easy part, because I now had to turn and face the players and the music!" he says. "If the walk to the front was long, the return walk would be longer." To his surprise, no-one said a thing, not then, not later, not ever in his years at Hawthorn. "It taught me that sometimes even the face of total opposition, and especially when we can feel very weak and even uncertain, we can sometimes win the day simply because doing the right thing has its own power," Lawrence says. In the week of the release of two movies about Adam Goodes, it is a message that resonates.
Lawrence makes clear that he does not tell this tale to sit in lofty moral judgement on his Hawthorn teammates, but as an example of the essence of leadership. Now 50, he has written a short book on the subject, called Make Your Mark, drawing on his 12-year AFL career and a busy after-life in teaching and ministry. Though you sense a religious underpinning, it is not laboured, in fact not mentioned. Among those who get a mention are Churchill, Rosa Parks, Mother Teresa, Édouard Michelin, Cicero and Mandela, and that's just the back six.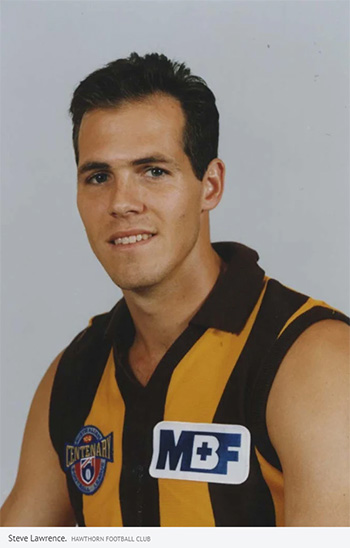 Lawrence's own tale is worth a book. His Rhodesian father, Godfrey, played Test cricket for South Africa as a 196-cm fast bowler. Young Lawrence was born in apartheid-blighted South Africa, but grew up in Brisbane. At 15, he intended to stand out of footy for a year to concentrate on study, but the itch overwhelmed him, which was just well, because soon Hawthorn came calling. He admits that league footy was not his dream as it was for southern state teenagers. "I am certainly the accidental footy star," he says.
Initially, Hawthorn overwhelmed Lawrence. Interstate recruits then tended to be readymade stars, like John Platten and Jason Dunstall. Lawrence was lanky, but could not do even one chin-up. Legendary coach Allan Jeans drove him hard; after most sessions, he vomited. But in his second year, his perseverance paid off when he was picked to replace the suspended Dermott Brereton. On debut, he kicked five against North Melbourne.
In 1991, the Hawks won the flag, the last of an era, and Lawrence was the player of the finals. His career eventually would last 11 years and 146 games, though he never kicked more than five goals in a season again, let alone a match. He says that with Dunstall and Brereton ahead, there wasn't much need.
Lawrence and wife Annie have six children. He says the lessons of his parents' turbulent marriage and divorce stayed with him. Post-footy, he ran the Emmanuel community in Melbourne, then Rome, developing himself as a teacher, speaker and counsellor. In 2008, he helped to organise World Youth Day in Sydney. All this learning he threads through his book. In the foreword, Hawthorn Hall of Famer John Kennedy writes: "This needs to be read and re-read by those concerned with the current paucity of inspiring leaders."
In 2011, on the day of Jeans' funeral, Lawrence had a coffee with old teammates Andy Collins and Darrin Pritchard. "Do you remember the time you got the porno turned off on the bus to Phillip Island?" Collins asked. Lawrence smiled: it had never been raised before. Collins said he had related the story to gatherings all over the country. "I tell them I think it is the greatest act of leadership I'd ever seen," he said. "That's because you knew everyone disagreed with you, but you still did what was right." Lawrence says what strikes him is how long the moment has lasted.
Make Your Mark, by Wilkinson Publishing.