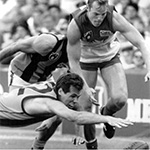 An article by Greg Baum, chief sports columnist and associate editor
On the release of Make Your Mark (Wilkinson Press).
(https://www.theage.com.au/sport/afl/leading-from-the-back-20190531-p51t98.html)
"Leading from the Back"
As soon as the Hawthorn players boarded their bus for a pre-season camp at Phillip Island in 1994, the driver began to screen an X-rated movie. Sitting in the very back seat, ruckman Steve Lawrence squirmed. "Even when averting my eyes, the sound effects left little to the imagination," says Lawrence. Their destination was two hours away.
Lawrence was 24, well established, a premiership player, but circumspect still in that group of big names and vast personalities. "But I knew I had to do something," he says. The march down the bus, accompanied by a chorus of "whhhhoooo", took forever. "My knees felt weak and my mouth dry from nervousness (as) I wondered what to do," he says.
Steve Lawrence is a tall, strapping fellow with broad shoulders; a man who moves with ease. These attributes, along with talent and persistence, helped him
become an AFL premiership player with Hawthorn in the early 1990s.
Although Steve retired from elite level football in 1998, his career since then has been rich and rewarding: working in education, ministry (he helped organise World Youth Day in 2008) and the business world, in Australia and overseas.