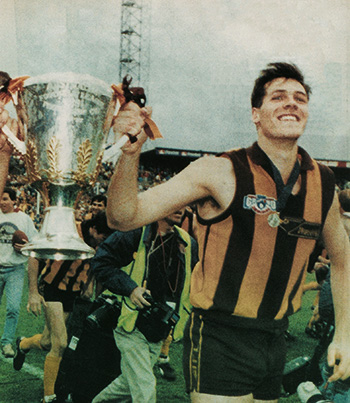 Steve Lawrence, a passionate speaker and story-teller, is a giant of a man whose mission is inspiring and equipping good leaders to become great.
He played twelve seasons of professional Australian football with Hawthorn (Australian Football League), was the Player of the Finals series in the 1991 Premiership team, and had a pivotal role in the 2008 Sydney World Youth Day as its Director of Evangelisation and Catechesis.
Steve's many adventures include living on three continents, running an international school of Mission in Rome with the Emmanuel Community, transforming youth minstry and Catholic educational institutions at secondary and tertiary levels, and starting his own leadership business.
Married to Annie, and with six children aged between 26 and 14 years, they have run programs for married couples and families for many years.
Steve has degrees in Humanities, Education and a Masters in Theology (John Paul II Institute), and has published two books. His second book, Make Your Mark: Five Hidden Keys to Great Leadership (Wilkinson) was launched in May 2019. His third book (The Tiny Book for Giant Men) is due to be published in late 2020.
The mission of his speaking and coaching business – Altum Leadership Group - is to inspire and equip good leaders to become great.
Interview of Steve Lawrence by David Kobler of Your Choicez