Make Your Mark: Five Hidden Keys to Great Leadership
Make Your Mark: Five Hidden Keys to Great Leadership (Wilkinson, 2019) provides a fresh approach to the age-old question of how to develop authentic leadership. It highlights the vital role personal character plays in the way people are influenced through relational attributes.
Failures of leadership abound in our contemporary landscape of business, politics and sport. Often these are not the result of strategic slip or technical incompetence, but rather failures of character. Steve Lawrence draws together a rich tapestry of stories of public leaders from history and literature, both ancient and modern, including his own striking experience, offering examples of leadership that will build trust, maximise collaboration and shape culture. Each chapter outlines the Five Hidden Keys to Great Leadership and presents a series of questions for evaluative self-reflection.
"Ought to be read and re-read by those concerned with the current paucity of inspiring leaders."
John Kennedy Senior, Australian Football League Hall of Fame
"It perfectly illustrates that the truly great leader is a person of virtuous character ready to serve others not self. Through captivating stories and insightful wisdom readers are given practical steps in how to become who they are truly called to be."
Therese Nichols, Founder and Director of OnePlate
"...surprising stories of how we can use everyday moments to have lasting influence."
Dale Stevens, Actress in Mission:Impossible and Blue Heelers; Principal, Present with Presence
"Steve Lawrence is a former Hawthorn player with great personal values."
The Hon. Jeffery Kennett AC - Premier of Victoria (1992-99); Founding Chairman Beyond Blue
Five Smooth Stones : A 40 Day WYD08 Journal
This journal of an extraordinary historic event (Modotti, 2010) is a portrait of a time and a place of concentrated grace, and it shows us anew the vast rishness and personality and gifts in God's people. Steve Lawrence, the Director of Evangelisation and Catechesis for World Youth Day 2008, gives us his day by day expreinces in the year leading up to WYD, and the momentous week when the youth of the world gathered close to the Holy Father and to each other, to learn and to grow.
"This book is a fascinating account, written with freshness and colour, full of compact stories that reveal the hand of Divine Providence at work in countless ways, in countless lives... Those who were unable to attend will taste and enjoy one of the great blessings of God in our times."
Michael D. O'Brien, Novelist, Painter and Essayist.
"These personal reflections on how the Word of God led you during the 30 days of preparation leading up to the World Youth Day eloquently reveal the action of the holy Spirit. I gladly recommend it to others as a means of spiritual preparation for the upcoming World Youth Day."
Cardinal Stanislaw Rylko, Prefect of the Pontifical Council for the Laity.
"Steve Lawrence, one of the key organisers of WYD Sydney, demonstrates that he too is a pilgrim soul and with heart slapping spiritual clarity he shares with us 40 days of his remarkable journey."
Selina Hasham, Chair, National Committee to WYD 2011, Madrid, Australian Catholic Bishops' Conference.
Raising Fathers. Fathering from the Frontline: 12 Men's Stories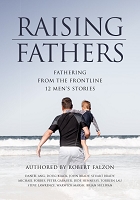 Coming Soon...
Steve is writing another book to follow soon, entitled: The Tiny Book for Giant Men.